Ghostly Ships
Posted by:
John
Tags:
Ships
Posted date:
04-10-2018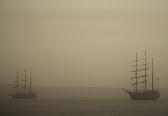 A beautiful view of ghostly ships at Dawn.
Picture take at dawn of 4 masted ships in Weymouth bay.
The Question is when 1818 or 2018 we will leave that one up to you let me Know when you book with us.
Go to our booking page add the numeric month to the prom box to get the very best deals on the internet.
Looking forward to meeting you in the future.
John