Sandworld Sculpture Park
Posted by:
Admin
Tags:
Posted date:
27-06-2018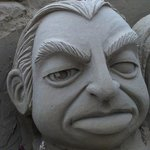 The Amazing Sand World
Sandworld is Weymouth's first sand sculpture festival, and one of only a handful ever held in the UK. Opened in 2011 by Weymouth "Sandman" Mark Anderson, and David Hicks, an aspiring sand sculptor and good friend of Mark.
After a highly successful 2017 season "A Life on Earth 2" . Our theme for 2018 will be TV & FILM, featuring GAME OF THRONES, STAR WARS, CHILDREN'S FAVOURITES FEATURING MICKEY MOUSE, TOM & JERRY, PEPPA PIG, PAW PATROL & MORE.
If you haven't visited us before, SandWorld is a unique gallery with a massive difference, as you get to have a go yourself, with tools and helpful staff at hand -
A MUST VISIT FOR ALL AGES !
Sand World